Regular price
Rs. 11,999.00
Regular price
Rs. 11,999.00
Sale price
Rs. 11,999.00
Unit price
per
Sale
Sold out
Size Chart:


Measurements in cms
SIZE

CHEST
(A)

WAIST (B)
SLEEVE (C)
FRONT LENGTH
(D)
SHOULDER
(E)
BACK
LENGTH
(F)
CUFF
(G)
S
53
49
79.5
56.5
48
68
12
M
54
51.5
81
56.5
51.5
69
12
L
56.5
53
82
59
53
73
12.5
XL
57.5
55
82
59
54
74.5
13.5
2XL
60.5
57
86
60
54
74 .5
14.5

Measurements in inches

SIZE
CHEST
(A)
WAIST (B)
SLEEVE (C)
FRONT LENGTH
(D)
SHOULDER
(E)
BACK
LENGTH
(F)
CUFF (G)
S
20.75
19
31
31
19
26 .5
4.75
M
21
20
31.8
31.8
20
27
4.75
L
22
20.75
32
32
20.5
28.5
4.8
XL
22.25
21.5
32
32
21
29
5
2XL
23.5
22
33.5
33.5
21
29
5.5
DSG Race Pro V2 Jacket
The DSG RacePro V2 motorcycle jacket is what you get when people love in a one-piece suit but look for a separately wearable alternative slim sport fit jacket. This motorcycle jacket means business and is technically on-par with comparable one-piece clothing.
It comes including a first time in its class removable elbow sliders in India, fixed hard-shell shoulder and a speedhump you find on track-ready items. You can zip-up with the knee slider-equipped DSG Race Pro riding trousers, or keep things practical by combining the motorcycle jacket with riding jeans.
The jacket comes with a separately wearable sleeveless, thermal water resist quilted liner within, and when taken out, the DSG Race Pro V2 is ready for warmer weather. DSG CE-level 2 protectors at the elbow, shoulders, back.
The DSG Flex Level 2 divided chest inserts with Flexion technology – another first in India developed by DSG, come standard with every DSG Race Pro V2 jacket; with the elbow and shoulder inserts receiving a boost in protective performance by our externally positioned protectors straight from MotoGP
CONSTRUCTION:
OUTER SHELL:

 

The main shell is made of 600 Denier Cordura.
3D Air Mesh

 

This knitted fabric has an open, 3-dimensional structure that ensures good ventilation while riding.
3D Air Mesh is a must-have for riders. Neoprene Neoprene is a synthetic rubber useful for protective gear. It is abrasion-resistant, chemical-resistant, waterproof, and stretchable, and buoyant. TPU
TPU

 

is an elastomer that has high abrasion ability and impact strength reinforcing the shoulder and elbow region.
FEATURES
Adjustability
Hook and Loop

 

Adjustment strap at waist Button adjustments at the elbow for a better fit Pockets
Inner pocket

 

- 1 Inner napoleon pocket with water resist zippers Outer pocket - 2 Slit pockets at waist Features
Long connection zipper

 

at waist Stretch fabric from the wrist to the armholes for a snug fit
Stretch panel on the neck

 

between the hump and collar Stretch lips at waist with the long zipper which prevents the jacket from creeping up: keeping the jacket and pant together.
Accordion panels

 

on the shoulder and back CLIMATE REGULATION Insulation Internal separate quilted water-resistant sleeveless jacket to keep the rider protected from light showers and cold
Ventilation

 

3D Air mesh Ventilation panels on sides The ventilation panels on this garment allow for optimal airflow to keep the body cool while riding. PROTECTION IN THIS PRODUCT
PROTECTION:
Dual shoulder protectors
DSG CE-level 2

 

Divided Insert Chest Protector The DSG divided Chest protector comes with CE Level 2 Flexion technology developed exclusively by DSG, a first in India protection.
The DSG Flexion Divided Chest Protector comes standard with every Race Pro V2 jacket. DSG CE-level 2 Insert Back Protector The DSG back protector is a CE-level 2 protector insert designed by DSG to maximize safety.
Safety Seams The stitching in motorcycle garments contributes greatly to the abrasion resistance of the total gear. This is why DSG uses safety seams on garment areas that have increased risk of impact. Safety seams have a visible as well as an invisible seam. This construction keeps the material of the outer shell together, even when the visible seam is torn.
DSG CE-level 2 Elbow Protectors Certified CE-Level 2 according to the norm EN1621-1:2012 the DSG protector is the latest innovation from the in-house R&D department.
The DSG protectors easily protects the rider without sacrificing wearer comfort.
DSG CE-level 2 Shoulder Protectors Certified CE-Level 2 according to the new norm EN1621-1:2012 the DSG protector is the latest innovation from the in-house R&D department.
The DSG protectors easily protects the rider without sacrificing wearer comfort. TPU sliders
Fixed hard-shell shoulder sliders
Removable elbow - sliders (saleable separately) CERTIFICATION
CE Certified to EN standards.
Note: Images shown for illustration purpose only. Actual product may vary in look & finish as per discretion from DSG.
Discover Innovative Design and Construction at Helmet Wala: Your Destination for Dsg Race Pro V2 Gear
Are you ready to elevate your riding experience to new heights? Look no further than Helmet Wala, where innovation meets performance with the remarkable Dsg Race Pro V2 gear. Our collection is a testament to cutting-edge design and construction, engineered for riders who demand the best. Here's why you need to explore the world of Dsg Race Pro V2 gear at Helmet Wala:
Experience the exclusive Dsg Race Pro V2 gear at Helmet Wala, setting new standards for motorcycle enthusiasts.

Redefine your riding with innovative gear designed for top-notch performance and innovation.

Optimal aerodynamics ensure a thrilling ride with cutting-edge design that maximizes speed.

Ergonomic design and customizable fit options deliver unbeatable comfort during your journey.

Advanced materials guarantee superior protection, including impact-resistant armor and CE-certified safety.

Stay comfortable with moisture-wicking technology that maintains a secure and dry ride.

Embrace the dynamic visual aesthetics that capture the essence of speed and competition.

Explore a diverse range of gear options, from jackets to gloves, tailored to your style.

Whether on the track or street, the versatile Dsg Race Pro V2 adapts seamlessly to your needs.

Access expert insights, FAQs, and dedicated customer support for a comprehensive experience.

Gear up with confidence and embark on a journey to racing excellence with Dsg Race Pro V2 gear from Helmet Wala.
Share
View full details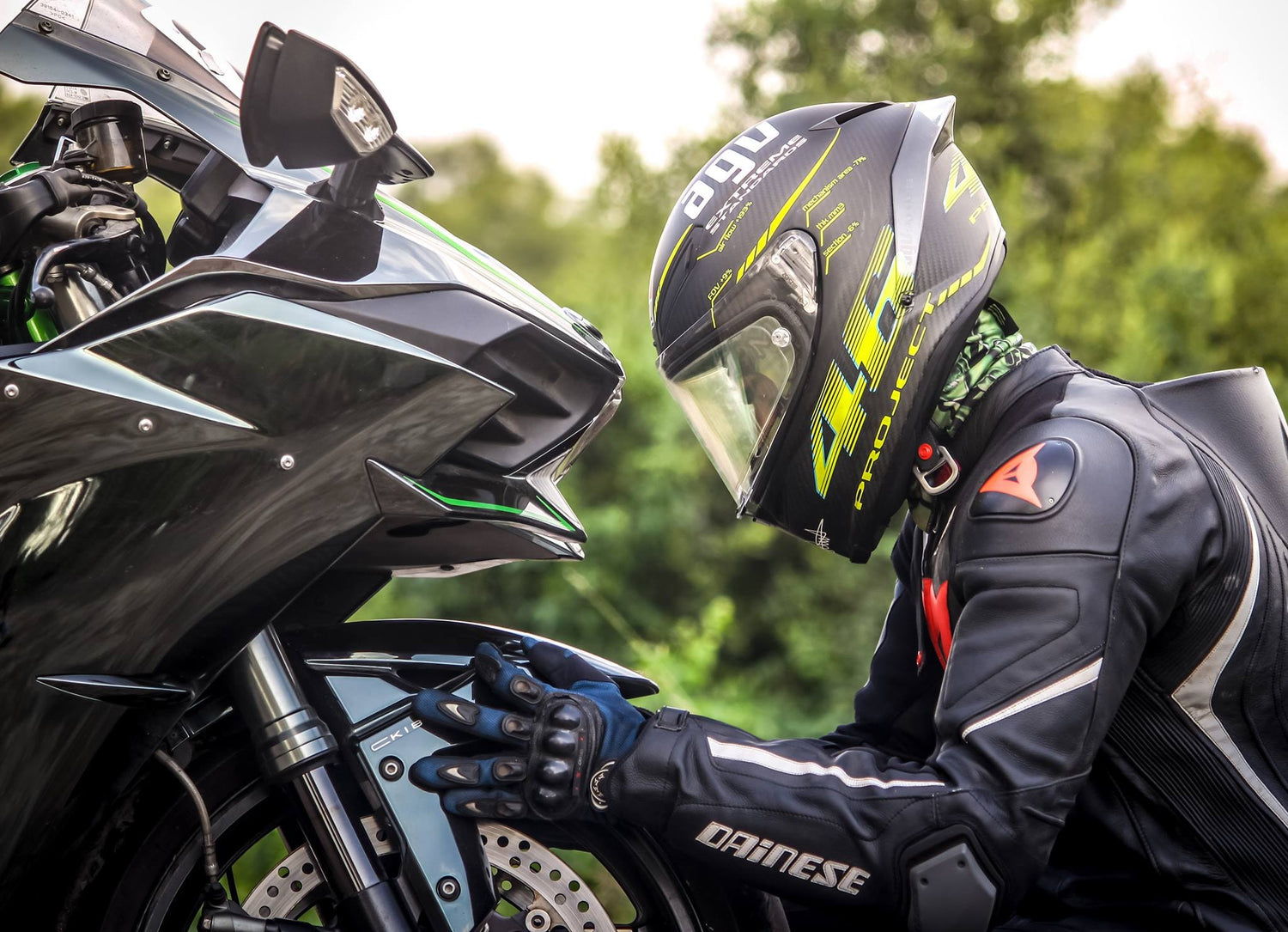 It's not about what you ride but how you ride it.
Your awareness towards the road and your safety gears defines you a safe rider. Your life is more valuable than the risk.